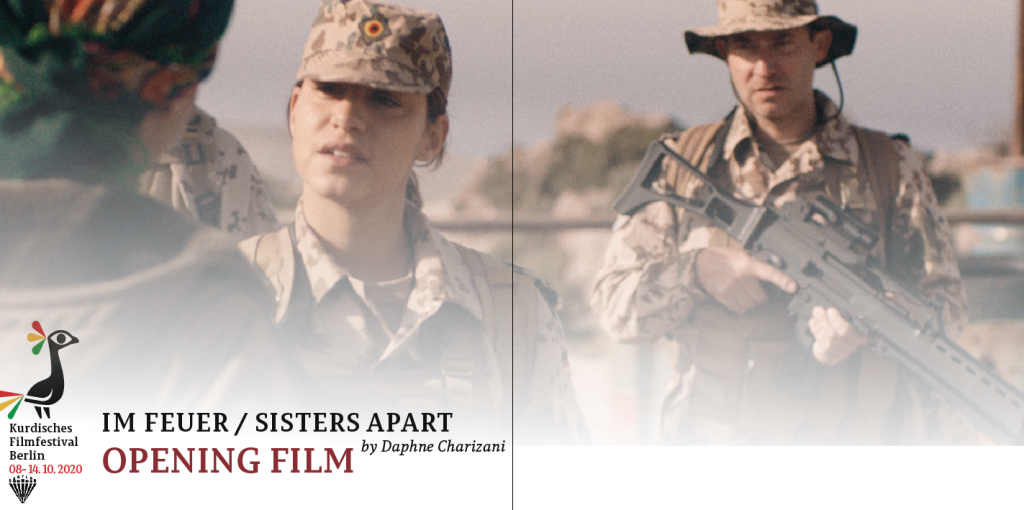 SISTERS APART (IM FEUER) am 8. Oktober im Kino Babylon Berlin
Der Eröffnungsfilm Sisters Apart von Daphne Charizani handelt von der Suche einer deutsch-kurdischen Soldatin Rojda nach ihrer Schwester in Kurdistan-Irak.
Das hochemotionale Drama feierte seine Weltpremiere auf der Berlinale 2020 in der Sektion Perspektive Deutsches Kino. Mit Almila Bağrıaçık in der Hauptrolle als deutsch-kurdische Soldatin Rojda, IM FEUER erzählt die Geschichte zweier Schwestern, die durch den Krieg auseinandergerissen wurden, und den verzweifelten Kampf einer jungen Frau, ihre Familie wieder zu vereinen.
Der Film behandelt eine Reihe verschiedener Themen, sei es das Band zwischen den Schwestern oder das Verhältnis zwischen Mutter und Tochter, sei es der alltägliche Sexismus, dem Rojda in ihrem Armeeleben begegnet, sei es die kulturellen Unterschiede und Vorurteile, mit denen die kurdischen Freiheitskämpferinnen konfrontiert sind.
"Sisters Apart" (Im Feuer) ist ein fesselnder Film der griechischen Regisseurin und Autorin Daphne Charizani und bei weitem einer der emotional berührendsten Filme, die Ihnen in diesem Jahr begegnen werden". Bianca Garner

ENGLISH
"Sisters Apart" (Im Feuer) is a compelling film from Greek director and writer Daphne Charizani and is by far one of the most emotionally touching films that you will come across this year." Bianca Garner
The film follows the story of two sisters torn apart by war, and the desperate struggle of one of the sisters' attempts to reunite their family. It's not often that we see the stories of women fighting on the frontlines being portrayed on the big-screen, so Charizani's decision to centre the story around these two sisters whose lives both involve fighting for freedom is something rare and unique.
The film deals with a range of different topics, whether it be the bond between sisters or the bond between mother and daughter, or the everyday sexism that Rojda encounters in her army life or the cultural differences and prejudices that the Kurdish freedom fighters have to struggle with.
………..
As every year, the Out of Focus programme presents a selection of films from the Kurdish regions and the diaspora. The program consists of feature films, documentaries and short films. Part of the program is shown in the Berlin cinemas Moviemento and Babylon Berlin.
The regular festival will take place in Berlin from October 08th to 14th. Additionally an exclusive selection of our best films from the last ten years (Anniversary Special) will be delivered to your home Until the end of this year.